Introduction to exhibition design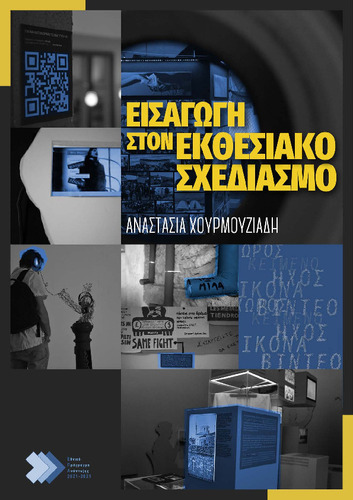 Table of Contents - Adobe PDF
(637.54 kB)
Title Details:
Introduction to exhibition design

Authors:
Chourmouziadi, Anastasia

Subject:
LAW AND SOCIAL SCIENCES > ANTHROPOLOGY (NON PHYSICAL) > SOCIAL AND CULTURAL ANTHROPOLOGY > CULTURE AND LIFESTYLE > CULTURAL HERITAGE LAW AND SOCIAL SCIENCES > ECONOMIC SCIENCES > BUSINESS ADMINISTRATION AND BUSINESS ECONOMICS; MARKETING; ACCOUNTING > MUSEOLOGY HUMANITIES AND ARTS > EDUCATION AND EDUCATION SCIENCES > FIELDS OF PEDAGOGY > MUSEUM EDUCATION HUMANITIES AND ARTS > ARTS AND LETTERS > ARTS HUMANITIES AND ARTS > ARTS AND LETTERS > VISUAL ARTS > DECORATIVE ARTS > INTERIOR ARCHITECTURE HUMANITIES AND ARTS > ARTS AND LETTERS > VISUAL ARTS > DESIGN
Keywords:

Exhibition
Museum
Museography
Sound design
Sonic narrative
Exhibition graphics
Visual narrative
Audiovisual media
Exhibition text
Exhibition scenography
Exhibition space
Spatial narrative


Description:
Abstract:

This book is an attempt to establish a holistic theoretical and methodological approach in the field of exhibition design, whether it is developed within the institutional and spatial boundaries of a permanent museum institution or not. The whole approach is based on the assumption that an exhibition is a multimedial and multimodal narrative tool. Thus, first of all, we examine how the fundamental principles of narratology can offer an alternative perspective on the process of creating an exhibition. Then, the individual narrative tools that can be used in an exhibition are analyzed theoretically and methodologically: the static and the cinematic image, the sound and the text. The approach of each tool is based on the combination of specialised literature related to this tool, with the relevant discussion that has been developed in the field of exhibitions. Although the separate approach of each narrative tool was deemed appropriate to delve into its particular features, potential and limitations, each chapter makes particular reference to the way in which it will ultimately work with the rest to produce a unified narrative whole. Thus, special importance is given to how all the above are composed within a specific spatial environment, which is the main narrative canvas, as is the case in a modern theatrical scenography.


Linguistic Editors:
Kioseoglou, Nerina

Graphic Editors:
Katsamaka, Vasiliki

Type:
Monograph

Creation Date:
15-09-2022
Item Details:
ISBN
978-618-5667-30-6

License:
Attribution - NonCommercial - ShareAlike 4.0 International (CC BY-NC-SA 4.0)

DOI
http://dx.doi.org/10.57713/kallipos-67
Handle
http://hdl.handle.net/11419/8555
Bibliographic Reference:
Chourmouziadi, A. (2022). Introduction to exhibition design [Monograph]. Kallipos, Open Academic Editions. https://dx.doi.org/10.57713/kallipos-67
Language:
Greek

Consists of:
1. Narrative
2. The space
3. The image
4. The cinematic image
5. The sound
6. The text

Publication Origin:
Kallipos, Open Academic Editions


Usage statistics

:
Items in DSpace are protected by copyright, with all rights reserved, unless otherwise indicated.