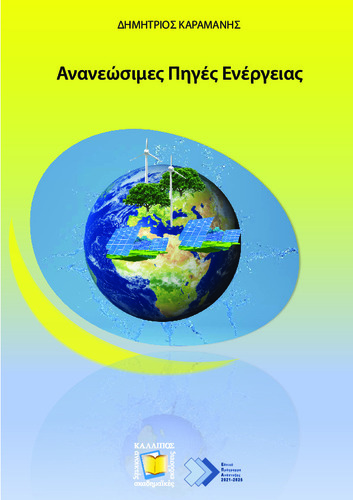 Title Details:
Renewable Energy Sources

Authors:
Karamanis, Dimitrios

Subject:
NATURAL SCIENCES AND AGRICULTURAL SCIENCES > PHYSICS > INDERDISCIPLINARY PHYSICS AND RELATED AREAS OF SCIENCE AND TECHNOLOGY > RENEWABLE ENERGY RESOURCES AND APPLICATIONS NATURAL SCIENCES AND AGRICULTURAL SCIENCES > AGRICULTURAL SCIENCES > NATURAL RESOURCES, EARTH AND ENVIRONMENTAL SCIENCES > NATURAL RESOURCES > RENEWABLE RESOURCES ENGINEERING AND TECHNOLOGY > TECHNOLOGICAL SCIENCES AND ENGINEERING > ELECTRICAL, ENERGY TECHNOLOGY AND ENGINEERING > RENEWABLE ENERGY SOURCES
Keywords:

RES
Energy
Solar energy
Wind energy
Hydroelectric energy
Geothermal energy
Bioenergy
Photovoltaics
Wind Turbines


Description:
Abstract:

In contrast to the high environmental impact of conventional fossil fuels and mineral nuclear fuels, the Renewable Energy Sources analyzed in this textbook are related to the most clean and environmentally friendly sources that can support the 100% energy transition to zero-emission technologies, such as solar thermal for heat, solar photovoltaic for power plants and buildings, onshore and offshore wind energy, concentrated solar, hydropower energy and small hydroelectric projects, geothermal electricity and heat. The potential and the energy conversion systems of solar, wind and water energy to electricity and heat are analyzed in detail in the respective chapters of the textbook. In addition, an introduction on energy utilization of biomass and the storage of RES intermittent electricity are also presented. Due to the increase of RES share in the energy mix and the current energy transition, special emphasis is given to the understanding of the utilization of RES energy systems with energy but also environmental indicators, in contributing to the environmental sustainability and the mitigation of climate crisis. Therefore, the textbook concludes with an environmental assessment of RES systems.


Linguistic Editors:
Bismpa, Anna

Graphic Editors:
Papavasiliou, Spyridon

Type:
Undergraduate textbook

Creation Date:
2022
Item Details:
ISBN
978-618-5667-29-0

License:
Attribution - NonCommercial - ShareAlike 4.0 International (CC BY-NC-SA 4.0)

DOI
http://dx.doi.org/10.57713/kallipos-45
Handle
http://hdl.handle.net/11419/8438
Bibliographic Reference:
Karamanis, D. (2022). Renewable Energy Sources [Undergraduate textbook]. Kallipos, Open Academic Editions. https://dx.doi.org/10.57713/kallipos-45
Language:
Greek

Consists of:
1. Energy demand, climate change and RES transition
2. Energy Sources
3. Fossil fuels, nuclear energy and environmental impact
4. Solar potential
5. Solar thermal systems
6. Solar cells
7. Photovoltaics
8. Wind potential
9. Wind energy and wind turbines technology
10. Hydro potential and small hydroelectric systems
11. Geothermal energy - Bioenergy
12. Environmental assessment of RES systems

Publication Origin:
Kallipos, Open Academic Editions

Analytics
Items in DSpace are protected by copyright, with all rights reserved, unless otherwise indicated.